Information
Hugo Cantin is a Montreal-based artist, designer, cinematographer, and film collector whose work has met with remarkable success in various art markets in America, Europe, and Asia.
Hugo creates linear-patterned collages using vintage film stock, which he illuminates with LEDs in elegantly-built wooden and metal lightboxes. His work achieves a keen, sophisticated aesthetic from a design standpoint, even as Hugo weaves highly intuitive historical narrations into his splicing of found film.
Inspired by the psychedelic and by mid-century figures and movements, Hugo effects dream-like meditations on some of the twentieth century's most captivating and iconic images, such as those of The Beatles, Warhol, New York City, the Apollo moon landing, and the pin-up girl.
Although his lightboxes distinguish themselves as decorative objects of taste and style, it is Hugo Cantin's sensitive, finely-tuned rendering of time on a flat surface that lends his works their luminosity and depth.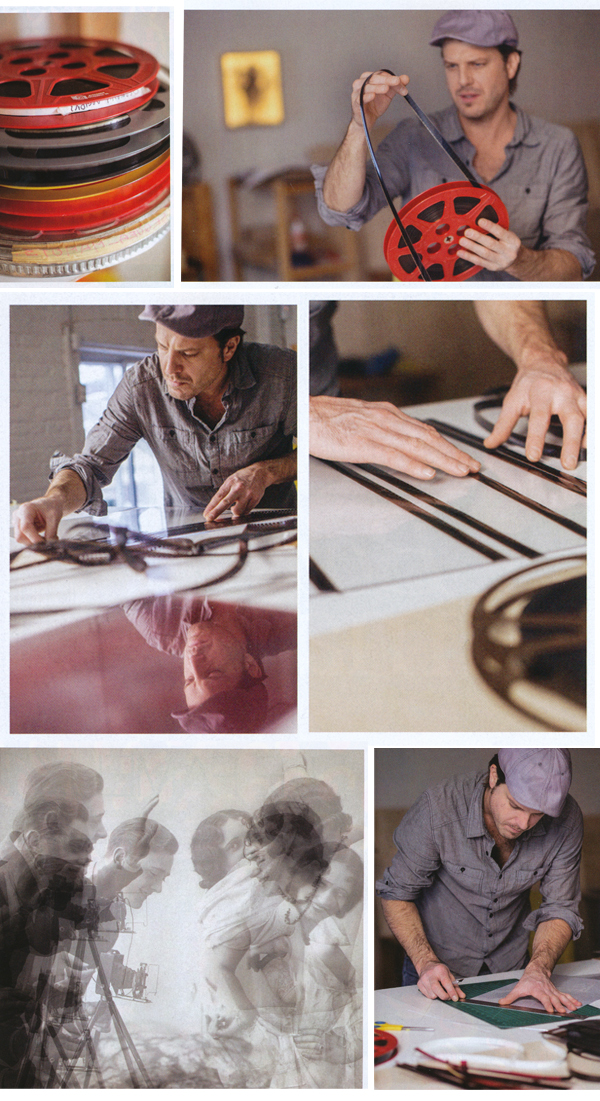 Mini-Cinema en Français
---
Après des études en design graphique et multimédia, Hugo Cantin, fondateur de Mini-Cinema, expérimente maintenant avec la lumière, la perception visuelle et l'univers cinématographique.
Il crée des tableaux lumineux uniques et ludiques au visuel vintage. Il déconstruit de vieilles images en impressions superposées. Jouant avec l'effet de profondeur, ces nouveaux designs se transforment selon notre point de vue.
Il crée des collages translucides qui intègrent de vieux films d'archive. Débobinée, accumulée, juxtaposée, la pellicule de film devient surface picturale, rythme et texture. Ces schémas répétitifs, fabriqués à partir de milliers d'images miniatures, nous révèlent aujourd'hui des histoires d'une autre époque.
Encadrées de bois ou d'acier, les œuvres sont animées par des lumières à DEL. Faites sur mesure, elles peuvent s'adapter à l'espace et être personnalisées.
---
Je collectionne les vieux films d'archive depuis une dizaine d'années. J'aime fouiner de brocantes en bazars, à la recherche de la bobine perdue! Alors j'amorce la pellicule et démarre le projecteur. J'anticipe le visionnement comme une grande découverte, riche en surprise et en inspiration. Le caractère authentique de ces images d'archives me touche et leur relative rareté en font un matériau inégalable.

Je décide alors de détourner ce médium et de faire vivre la pellicule comme matière… libérée de sa bobine, je la déroule, la découpe, l'assemble, la colle, l'encadre et l'éclaire! Métamorphose du cinéma d'hier en tableau lumineux d'aujourd'hui. Nous trouvons devant nos yeux mille images, nous devenons témoins d'une histoire figée… Le temps s'est arrêté.
Microstock Footage
Mini-Cinema's Royalty-Free Film Archive
Visit Mini-Cinema's FILM CLIPS portfolio on Pond5
With over 600 vintage film clips available for purchase as direct downloads – A Dusty Worldwide Travelogue, Vintage Super8 Extravaganza, Kitsch Carnival, Home Movie Galore…